China South Asia Business Council meeting concluded in Maldives: FNCCI signs MoU to establish Silk Road Business Council December 1, 2017
December 01, 2017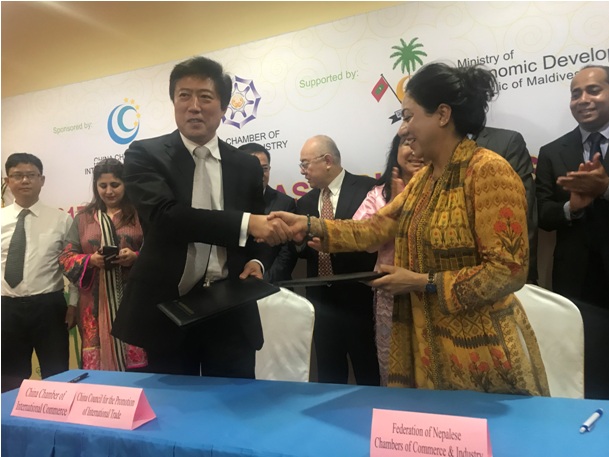 President of Federation of Nepalse Chambers of Commerce and Industry (FNCCI) Ms. Bhawani Rana addressed the China South Asia Business Council meeting in Male, the capital of Maldives, on 30th November 2017.
The meeting was organized by China Council for the Promotion of International Trade (CCPIT) Yunnan Sub-council, sponsored by China Chamber of International Commerce and SAARC Chamber of Commerce and Industry (SCCI,) and supported by Ministry of Economic Development of Maldives.
This Council meeting was organized for the preparation of the 13th China-South Asia Business Forum which will be organized in June 2018 in Kunming, Yunnan Province of China.
Mr. Adam Thaufeeg, Deputy Minister for Economic Development of Maldives; Mr. Suraj Vaidya, President of SCCI; and high-level officials of CCPIT participated in the meeting. During the meeting, MOUs were signed between CCPIT and various national business federations and chambers, to establish Silk Road Business Council. Ms. Bhawani Rana signed the MOU from FNCCI side.
As per the MoU, the Council is established to serve as a platform for industrial and business sectors among countries along Silk Road, to provide information on trade and investment opportunities, to assist them to overcome problems in international trade and economic cooperation, to set up a national council in its own country and its leader serving as president of the national council. As per the MoU, the Chairman of CCPIT shall serve as President of the Silk Road Business Council, with a secretariat operating in Beijing.
The Silk Road Business Council has more than 35 member organizations from various countries including Nepal, Germany, UK, France, Italy, Austria, Belgium, India, Pakistan, Maldives, Bangladesh, Singapore, Thailand, Saudi Arabia, Turkey, and Qatar.
Addressing the meeting, President Rana highlighted that Nepal, being a partner in the Belt and Road Initiative and a member of the Asian Infrastructure Investment Bank, is looking forward to opening up of new opportunities through this initiative, not only to boost the bilateral trade and investment through increased connectivity between China and South Asia, but also to develop many sectors of Nepal, and address the infrastructure gap that Nepal is facing.
President Rana also informed that FNCCI, as the apex private sector body of Nepal, has been working closely with CCPIT, as well as its counterpart All-China Federation of Industry and Commerce (ACFIC) and Silk Road Chamber of Commerce and Industry, of which FNCCI is one of the founding members.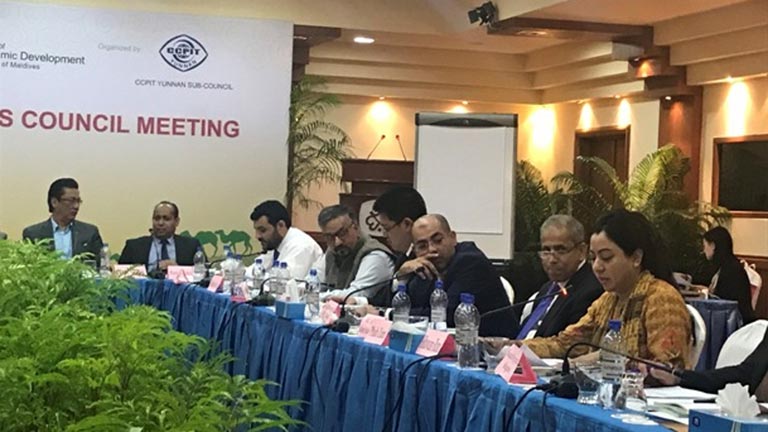 President Rana further emphasized that along with the opportunities arising out of OBOR, Nepal faces new challenges, mostly in its lack of competitive strength, investment capacity, and technology, and urged cooperation from the Council members to invest in Nepal in various sectors including new energy, infrastructure, agriculture, service industries, tourism, ICT, environment protection, development of financial centers, Research and Development, IT software, e-commerce, e-governance, and building of smart cities.
President Rana expressed her belief that the establishment of the Silk Road Business Council, as a multilateral mechanism of business communities along the OBOR, is an important milestone and a valuable step forward to the implementation of the "Silk Road Economic Belt" proposal put forward by the President of China H.E. Xi Jinping, She said.
President Rana's speech full text attached herewith
For more information please download :
Bhawani Rana Speech - CSABC meeting Maldives (1).pdf