Federation of Nepalese Chambers of Commerce and Industry (FNCCI)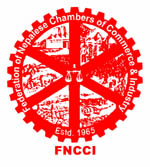 The Federation of Nepalese Chambers of Commerce and Industry (FNCCI) is the nationally and internationally recognized umbrella organization of private sector of Nepal. Established in 1965, it represents the interests of the private sector and is engaged in promoting socio-economic development of Nepal through private sector led economic growth.
FNCCI has the wide network of its members spread all across the country. FNCCI is comprised of four types of members, viz, district/municipality level Chambers of Commerce and Industry (92), national level Sectoral/Commodity Associations (80), Bi-national Chambers of Commerce and Industry (10), and leading private and public companies also known as Associate Members (453). The total coverage of FNCCI members exceeds 100,000 business units, including the members of its member-organizations.
FNCCI is affiliated to various international organizations, such as International Chamber of Commerce (ICC), International Organization of Employers' (IOE), Confederation of Asia-Pacific Chambers of Commerce and Industry (CACCI), Asian Trade Promotion Forum (ATPF), SAARC Chamber of Commerce and Industry (SCCI), Standing Committee for the Chamber of Commerce of Group-77 and World Association of Small and Medium Enterprises (WASME). Similarly, FNCCI has cooperative agreements with the national trade organizations in different countries of the world.
With the vision of "Leading the Nation's Economic Progress" and mission of "Facilitating Nepalese Businesses Become Globally Competitive" FNCCI has been partnering with the government, development partners and international organizations for promotion of business within and outside of the country.
www.fncci.org