Green Homes Project

Contents


► Introduction of the project
► Objectives
► Project Components
► Activity Summary
► Contact Person​




Introduction:
Promoting Sustainable Housing in Nepal
UN-Habitat with support of European Union introduced
Green Homes Project
in Nepal with aim of promoting sustainable housing concepts in Nepal. The concept of sustainable
housing mainly focuses on reducing negative impact on natural resources and carbon emissions in housing system. The eco-friendly practices helps to curb the energy consumption in housing sector and helps to mitigate global climate change effects thus resulting in healthy wellbeing. The Green Homes Project is being implemented by UN-Habitat with its implementing partners (Federation of Nepalese Chamber of Commerce and Industry (FNCCI) (Clean Energy Nepal (CEN), Environment and Public Health Organization (ENPHO), Institute of Housing and Urban Development Studies (IHS) and Shelter and Local Technology Development Center (SLTDC)).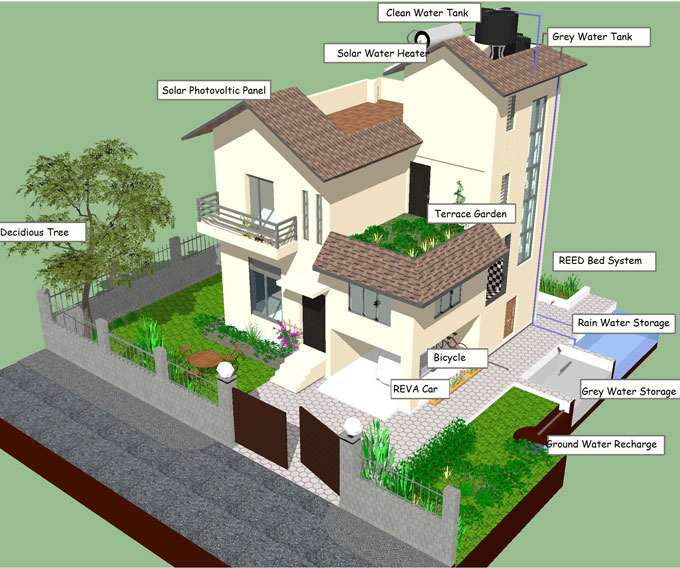 The specific objectives of the project are:
Create an enabling policy environment to promote sustainable housing;
Strengthen supply chains for sustainable housing and building capacity of Small and Medium Enterprises(SMEs) to deliver household level green technologies and services
Stimulate demand for sustainable housing
The existing SMEs in sustainable housing sector in Nepal are lacking proper technical and management skills. Realizing the importance of strengthening SMEs and to build capacity of SMEs, UN-Habitat in partnership with FNCCI is working to strengthen supply chain of sustainable housing products/services under Green Homes Project.
Five Components of Green Homes Projects:
Green Construction Materials
Passive Solar Design
Energy Efficiency
Waste Management
Water Conservation
For more information on Green Homes Project
:
http://unhabitat.org.np/category/project/greenhomes/
---



Activity Summary of Green Homes-Promoting sustainable housing in Nepal
Following are the activities conducted by FNCCI under Green Homes Project with support of UN-Habitat and other organizations
Consultation/Dissemination Workshop
| | Activities | Date | Supported By |
| --- | --- | --- | --- |
| 1 | Workshop on strategy preparation for strengthening of supply chain and marketing of sustainable housing in Dharan | 24th December 2014 | UN-Habitat,SunsariCCI, Dharan Sub-Metropolitan City |
| 2 | Workshop on strategy preparation for strengthening of supply chain and marketing of sustainable housing in lalitpur | 27th January 2015 | UN-Habitat, LalitpurCCI, Lalitpur Sub-Metropolitan City |
| 3 | Workshop on strategy preparation for strengthening of supply chain and marketing of sustainable housing in Pokhara | 22nd March 2015 | UN-Habitat, Pokhara CCI,Pokhara Sub-Metropolitan City |
| 4 | RE in Urban Context: Challenges and Opportunities | 22nd November 2015 | UN-Habitat, CEN, Lalitpur SMC, IOE |
Consultation Meeting
| | Activities | Date | Remarks |
| --- | --- | --- | --- |
| 1 | Consultation meeting for Hollow Concrete Block SMEs in Pokhara | 24th August 2014 | UN-Habitat, Pokhara CCI, Pokhara Sub-Metropolitan City |
| 2 | Networking meeting with Switch Asia Projects in Nepal to take initiation for financial link up for SMEs with financing institution | 4th September 2014 | |
| 3 | Consultation meeting for Solar SMEs in Pokhara | 11th November 2014 | UN-Habitat, Pokhara CCI |
| 4 | Consultation and Orientation Meeting with Financial Institutions | 22nd June, 2015 | UN-Habitat |
| 5 | Consultation Meeting with Financial Institutions | 8th February, 2016 | UN-Habitat and SWITCH-Asia project partners |

Technical Trainings
| | Activities | Date | Remarks |
| --- | --- | --- | --- |
| 1 | Organized and Conducted Training on Energy Efficiency and Solar Installation at Household Level in Pokhara | 30 January to 2 February, 2015 | UN-Habitat, Pokhara CCI, Pokhara SMC, CEN |
| 2 | Organized and Conducted Training on Energy Efficiency and Solar Installation at Household Level in Lalitpur | 26– 28 August, 2015 | Supported by POkharaCCI, UN-Habitat, Pokhara Sub-Metropolitan City, CEN |
| 3 | Training on Market Strategy focused on promotion of green products and services | 8-9 October, 2015 | UN-Habitat, Lalitpur Sub-Metropolitan City, IHS |
| 4 | Three Days training on Solid Waste Management | 17-19, December, 2015 | UN-Habitat, Lalitpur Sub-Metropolitan City, ENPHO |
| 5 | Organized and Conducted Training on Energy Efficiency and Solar Installation at Household Level | 19-21 February, 2016 | UN-Habitat, FNCCI |

Entrepreneurship Development Trainings
| | Activities | Date | Remarks |
| --- | --- | --- | --- |
| 1 | Entrepreneurship Training on Sustainable Housing, Lalitpur | 6-7 September, 2015 | UN-Habitat, Lalitpur Sub-Metropolitan City |
| 2 | Entrepreneurship Training on Sustainable Housing, Pokhara | 23-24 September, 2015 | UN-Habitat, Pokhara CCI, Pokhara SMC |
| 3 | Entrepreneurship Training on Sustainable Housing, Pokhara | 24-25 September, 2015 | UN-Habitat, Pokhara CCI, Pokhara SMC |
| 4 | Entrepreneurship Training on Sustainable Housing, Dharan | 6-7 November, 2015 | UN-Habitat, Sunsari CCI, Dharan SMC |
| 5 | Entrepreneurship Training on Sustainable Housing, Lalitpur | 23-24 November, 2015 | UN-Habitat |
---



Contact Person:
Ranjan Bhatta
Program Manager
FNCCI-Green Homes Project
E-mail:
[email protected]
;
[email protected]
---