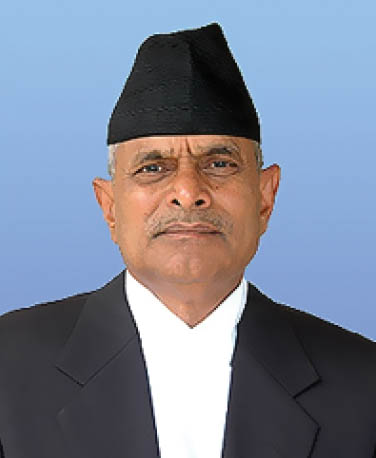 Rt. Hon'ble Dr. Ram Baran Yadav
President of Nepal
I am pleased to learn that the Federation of Nepalese Chambers of Commerce & Industry (FNCCI) has been entrusted with the responsibility of hosting the 26th Confederation of Asia-Pacific Chambers of Commerce and Industry (CACCI) Conference in Nepal on October 3-5, 2012. This reminds me of my meeting with the CACCI President during his last presidential mission to Nepal when we had talked about the possibility of having a CACCI event in Nepal. And this has happened now, with Nepal as a distinct business destination in the Asia-Pacific region.
The theme of the conference 'A Vision for Shared Prosperity' is very timely especially in view of the fact that Asia-Pacific region is the fastest developing economy of the world. I am hopeful that the conference will bring together the eminent business leaders and other personalities of the region and beyond into this forum. Sharing of experiences and intensive deliberations amongst the eminent participants at the conference on common agenda and issues of interest will hopefully help develop new strategic design and pave a road map towards a broad based economic environment and regional prosperity. I am sure, the conference will give equal emphasis to the need of enhancing egalitarian approach in order for addressing the issue of economic justice and social responsibility.
Nepal located between two of the world's largest economies-China and India- offering competitive opportunities as well as markets has been trying its best to create investment friendly environment, despite its adverse political environment during past one and half decades. Since Nepal is celebrating Year 2012-2013 as Nepal Investment Year, Lumbini Visit Year 2012, the country looks forward to boost both domestic and foreign investment, especially in sectors having competitive advantages, such as Hydropower, Tourism, Agriculture, Infrastructure, Mining and Minerals, Information and Communication Technology, Health and Education, etc. The Government and private sector would like to invite you to explore possibilities of developing new business partnership and also having a permanent business presence in Nepal.
I believe, business forums like this conference, under the platform of CACCI, will open new avenues for entrepreneurship and yield desired results. Let the dynamism of this conference through your ideas, vision and leadership make the event productive and instrumental for fostering tangible business linkages, signing of MOUs, and materializing important investment projects in friendly countries of the Asia-Pacific region.
I look forward to an active and meaningful participation of innovative and visionary business leaders from different fields and wish you an enjoyable stay in Nepal. With energetic, dedicated and combined efforts of all, we will certainly be able to forge a formidable business alliance to create economic opportunities leading to the prosperity for all participating partners and the countries they represent, including Nepal.
I wish a grand success of the conference. Thank you